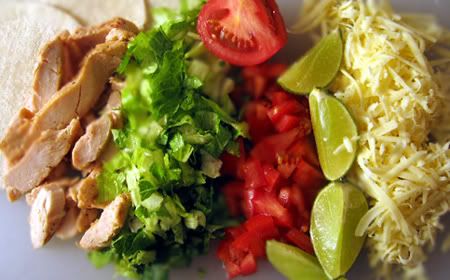 I am a big fan of Mexican food. On any given week, I make something Mexican at least once from burritos, to enchiladas to homemade salsa. Still, I was skeptical about the new Las Olas Taqueria on Portsmouth Ave. I mean, Margarita's is right down the street, what were they thinking?
It's a completely different style of Mexican, as in, not completed deep fat fried, extra cheese, extra heavy fat food. More like the style of take out lunch you can get at
Dos Amigos in Portsmouth/Dover.

I stopped in today while running errands and picked up a chicken taco. Tacos are served on soft tortillas folded in half. You customize your pick as you go along, sort of like at Subway. They had chicken, beef, pork and beans to start. Then add on cheese, fresh salsa (regular or hot), fresh guacamole, sour cream, onions, tomatoes, lettuce, fresh cilantro or fresh lime juice. Burritos are filled with beans, rice and choice of meat, along with all the other toppings. They also had a taco salad, quesadilla and low carb option, pile of toppings in a bowl with rice and beans thing.
I was in and out of the place in less than five minutes and they were packed. And it was a bargain for the taco in my 0pinion, about $2.50.
They also sell beer, but sadly no margaritas...
Makes me thirsty just thinking of margaritas. yuum